We made it to Friday!
Has been a busy week, subbing some at school, cleaning for last minute company as well as for our neighborhood open house this weekend!
I did manage to sneak in time to make a canvas for my friend who is coming for a visit.
Also - did you know that
Scrapbook.com
has some amazing sales going on?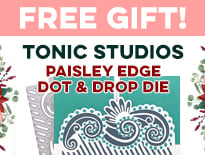 FREE GIFT! Tonic Studios Dot & Drop Die!
*This is a FREE gift, while supplies last. Shipping rates still apply. One (1) Dot & Drop Die freebie per customer, per day during the promotional period for all shipped and pick-up orders.
GET YOUR FREE DOT & DROP DIE NOW!
12 HOT Brands 20% to 50% OFF!
The 12 Days of Christmas are finally HERE! To celebrate we're discounting 12 of the hottest brands, all at the SAME time, for 12 days! Shop now and SAVE 20% to 50% on the popular brands shown below. Sale ends Wednesday, December 12th at midnight MST. But hurry! Shop now for the best selection because many coveted items will sell out!
There is still time time to shop for great deals for gifts (or for yourself - I won't tell:))
Adding this to
PaintPartyFriday
! The artists post wonderful project so be sure to stop by and check out the links!
Thank you for visiting me today. Wishing you all a wonderful weekend!